IKEA fuels a climate neutral transport industry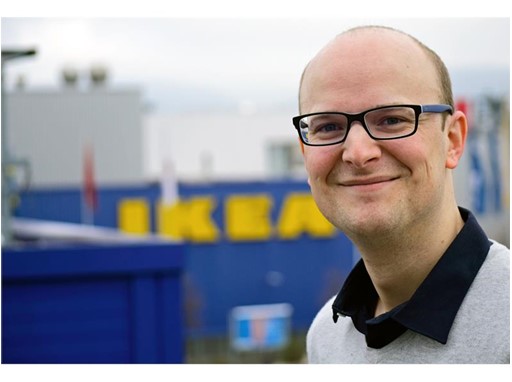 IKEA has a strong sustainability- and decarbonising agenda, in fact, the goals are so ambitious that it might influence the whole transport industry.
"We ship millions of products every year, mostly by land and sea. Of course, IKEA should take a big responsibility when it comes to doing business in a people and planet positive way," says Elisabeth Munck af Rosenschöld, Sustainability manager at IKEA Transport & Logistics Services.
And the latest initiative – an interactive map with fuelling stations selling alternative fuel for heavy transports – came about the same way as many other things from IKEA.
"We have a very ambitious decarbonising agenda when it comes to transport. To be able to increase our use of alternative fuel, there was a need in the business for such a map. We couldn't find one, so we invested a couple of months in creating it", says Johann Spriet, Sustainability developer at Transport & Logistics Services at IKEA.
He says it with a matter of course like it would be the simplest thing to do for anyone. But the map turned out to be quite unique.
"Well, we just wanted to develop our own way of contributing. But it turned out that no-one, at least to our knowledge, has done this extensive and global mapping of alternative fuelling stations for heavy transports, what type of fuel they sell, confirmed existence and address connected to interactive directions", says Johann.
The map is updated twice a year, the capacity planning department and 14 sustainability developers from different regions have contributed to make the map as complete as possible regarding Europe, North America, Russia and China. But this is not enough. Now IKEA wants to develop, or maybe even hand over this map to an external organisation to improve it further.
"The interactive map, together with many other sustainability initiatives from IKEA, are small steps towards a bigger ambition of a decarbonised and sustainable transport sector. To continue on this road, we need more cross country- and company collaborations, says Johann.
"We hope the map could be developed into a global collaboration between carriers, global transport buyers like ourselves and authorities. Alternative and more sustainable fuel is an important step to support the transformation to a climate neutral transport- and logistics sector", Johann Spriet concludes.
Link to the map: https://www.google.com/maps/d/viewer?mid=1DFJnC_ApMNPtCUDWpgSLTXBkRQtBb2A_&ll=32.38072635793575%2C8.127878328125007&z=3

IKEA view on alternative fuels for heavy transport
● We support advanced biofuels that turn waste into resources.
● We encourage the electrification of the transport sector with electricity from renewable sources.
● We consider natural gas as an alternative fuel if it provides a bridge toward biogas by putting the right infrastructure in place.
 
Related links
- Good Shipping-initiative
- Rethinking transportation as part of the climate agenda/interview
Contacts
IKEA Range and Supply

Product Development, Design, Production and Supply

Sweden

pressoffice.rangesupply@inter.ikea.com

+46 732 321300
More From About Us
SUBSCRIBE TO RSS FEED
XML