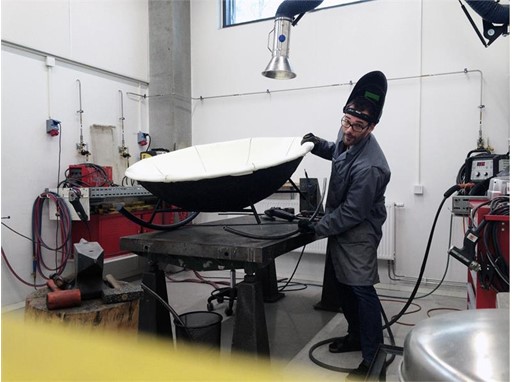 The IKEA PS 2017 collection – 21 designers, 1,000 ideas, 60 products that inspire people to "live it".
High design values at a great price — that is what the IKEA PS collections are always about. For the 2017 collection, it's centered on freedom at home.
"No rules, no restrictions, no limits. That's the feeling this collection builds upon," says James Futcher, creative leader for the upcoming collection. "We want to get the message across that freedom comes with living just as you please."
Solutions for the ultimate freedom at home
This focus has inspired a completely collaborative and transparent design process that has involved exploring new materials and techniques directly on the factory floor. The result will be a dynamic range of 60 products that are meant to be truly experienced and can be composed to reflect one's own personal style and way
of life.
"The idea is to create a collection that is for the young, urban generation living in the city — a collection that could be moveable, adaptable, changeable, to suit their new needs at home," James says. "And then comfort becomes a crucial part — how can we create products that are not just about comfort, as in what you sit on, but comfort with products that feel good to use and give you added functionality?"
The oversized rocking chair being developed is a good example of "challenging the way we think about the living room." It can be used conventionally — alone — or the whole family can snuggle together on it. There's also a foldable table that can be easily pulled out and used while seated on the floor or working in the sofa. And there's the "quillow" — the quilt that can be folded up and used as a cushion.
Innovation happens right on the factory floor
Designing on the factory floor has fueled the teams' creativity, because they can really understand the production process and learn what techniques and materials are available. By working directly with the suppliers, the designers have found ways to create comfort using as little material as possible and to flat-pack furnishings more efficiently.
For example, the team is exploring the use of a flat-bed knitting machine to create a very thin, lightweight material that is not only extremely comfortable but also eliminates the need to pack and ship big pieces of foam.
"The best thing with working at the suppliers is that you can be hands on," says designer Marcus Arvonen. "You see the development straight away. You can take fast decisions and do it together with the supplier."
Why stop with furniture … food is a big part of life at home
The collection will be capped off with the addition of "comfortable" food items, such as spice mixes, grains and healthy drinks, to instantly create a Scandinavian dish. All in all, the collection will contain items that help people enjoy all the activities that take place at home to the fullest.
Live it, rock it, eat it, move it, show it…
IKEA PS 17 collection
Launch February 17
Designers
Gustav Carlberg
Hanna Dalrot
Henrik Preutz
Ida Pettersson
Iina Vuorivirta
Jon Karlsson
Kate Booy & Joel Booy
Maja Ganszyniec
Marcus Arvonen
Nike Karlsson
Ola Whilborg
Paulin Machado
Sarah Fager
Thomas Sandell