IKEA sets out on a journey to explore the future Scandinavian design identity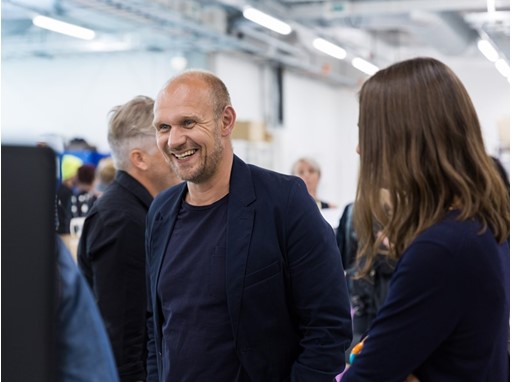 As one of the first steps on the journey to explore the future Scandinavian design identi, IKEA will together with the Danish design company HAY create a collection for socializing in the livingroom.
"When we see the world is changing, how people live is changing, how people use products is changing, we have a duty to reinvent our basics. Still with a typical IKEA design sensibility, so that you can see that it is us from the beginning, so you can see that it relates to our Scandinavian heritage, which is part of being IKEA", says Marcus Engman, Design Manager at IKEA.
Doing this together with HAY, a design company that stretches from the boarder of architecture to fashion and who has contributed strongly to today's perception of Scandinavian design, yet with an international reach, is really exciting", says Marcus.
IKEA has initiated a collaboration with Danish company HAY, inviting them to work on a new collection of products that will be launched in 2017. The collection comprises furniture, lighting, accessories and textile designs, made by IKEA using advanced manufacturing techniques.
"I was so enthusiastic about this cooperation with IKEA. This cooperation is with one of the best supply chains in the world, with some of the best product developers and engineers in the industry. I knew that we could learn from IKEA, and hopefully they could also learn from us", says Rolf Hay, co-founder of HAY.
IKEA and HAY work together with openness, mutual curiosity and with a shared interest in learning.
"We felt immediately that IKEA was a very open culture, so they were not afraid of sharing. From my point of view, that was one of the reasons why I was attracted to working with them, that we could actually learn something from one another", says Rolf.
"I think the time we are living in is so much about sharing experiences, the future is so much about collaborations. I feel that it is about doing the right collaborations, where both parties are bringing something to the table, and with IKEA and HAY I really felt that we both brought a lot to the table, and we did this together", says Mette Hay, co-founder of HAY
The IKEA and HAY collaboration has sought to understand what the true functional and emotional needs are in the modern 21st century home. The collection acknowledges changes that are taking place, how life is becoming more fluid and the idea of function by room is dissolving. The resulting products combine technical innovation, aesthetic confidence and a shared ambition to make exceptional design accessible to all.
"The idea we had for the collection, which also came from Rolf and Mette, was to do design which is totally clever, but understated at the same time. There are a lot of pieces with new constructions, new ways of doing things, but it is design that still blends in. There is also a longevity in it, we would like people to live with these things for a long time, because they are going to age in a beautiful way", says Marcus.
A shared sense of values has allowed IKEA and HAY to work together in a conversational and thoughtful way. An interest in how people work, eat, socialise and rest in urban environments all across the world, has given focus to this collection. A key ambition has been to re-imagine what the basic products that everyone needs are, and to create new designs to meet those needs. Creating products that will serve new more fluid functions, emotionally connect with their users, and also age well over time.
"In the same way as I feel with HAY, I feel that the accessories can be like the glue in this collection. A lot of the furniture will be grey, and white, and green. With the accessories we can play with much more colour, and you can work more on different materials", says Mette.
Contacts
IKEA Range and Supply

Product Development, Design, Production and Supply

Sweden

pressoffice.rangesupply@inter.ikea.com

+46 732 321300
More From About Us
SUBSCRIBE TO RSS FEED
XML