Reuniting migrant workers with their children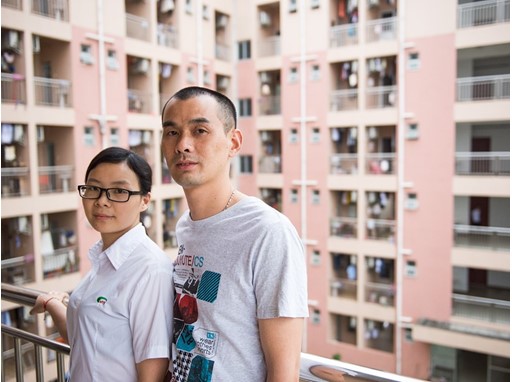 In China, more than 200 million people set off from their hometown each year to work in another province – leaving their children to be raised by grandparents or on their own. IKEA cooperates with one of our biggest Chinese suppliers of paper pallets, to reunite migrant workers with their children. The solution is to provide family dormitories, local school places and after school activities.
For many people, finding work opportunities means a move away from home. More than 200 million people in China are migrant workers. Due to this, about 200 million children are left without their parents – a lot of them with their grandparents, but around 4% are living alone. In most cases, the parents only see their children once a year – during the Chinese New Year.
"Most parents really want to live with their children, but there are so many challenges. It's very expensive to rent an apartment, it is difficult to get a seat in the local schools and there is nowhere for the children to go when school closes in the afternoon and the parents are still working," says Mandy Fan, sustainability compliance manager at IKEA.
The Social Initiative Project
IKEA wants to empower people to create a better everyday life for themselves, including the migrant workers employed in our supply chain. That is why we – together with two of our Chinese suppliers – have started the Social Initiative Project. The aim is to reunite migrant workers with their children.
Dongguan MYS, a large IKEA supplier of packaging material and paper pallets, located in the south-eastern part of China, is one of the suppliers participating in the Social Initiative Project.
"I'm a migrant worker myself and have been separated from my children for many years. I regret that I couldn't stay with them and support them during their childhood and adolescence. That's why I'm pushing this initiative; to reunite migrant workers with their children," says Chunan Lin, general manager of Dongguan MYS.
In cooperation with IKEA, Dongguan MYS has turned 35 of the dormitories on their premises into family dormitories. They've also talked to the local authorities to help the children of migrant workers get into local schools. Furthermore, they have created an after school activity room on the premises, where children can do their homework and play under the supervision of a teacher.
"Most factories in China don't work in this way. But we are heading for a long term sustainable development with the aim to be a packaging giant in the future. Our workers are our biggest asset and the basis for keeping workers is to provide them with good enough benefits," says Chunan Lin.
Continuous improvements of working conditions
During the next fiscal year, IKEA plans to expand the Social Initiative Project to about nine more Chinese suppliers, focusing on those with a high share of migrant workers.
"Our long term ambition is to inspire all our Chinese suppliers to implement solutions that make it possible to reunite migrant workers with their children," says Mandy Fan.
Reunification of migrant workers and their children is one of the steps taken by IKEA and our suppliers to support decent jobs in China. Another important step is limiting working hours to 40 hours per week and 36 overtime hours per month for all our Chinese suppliers, maintaining wage levels in 2015.
"We work hard to improve the dialogue with our suppliers and to build trust and understanding. It's about making people understand that what's good for their workers is good for their business. We are continuously working to improve wage levels and benefits for the people in our supply chain," says Stefan Karlsson, sustainability compliance manager at IKEA.
Contacts
IKEA Range and Supply

Product Development, Design, Production and Supply

Sweden

pressoffice.rangesupply@inter.ikea.com

+46 732 321300
More From About Us
SUBSCRIBE TO RSS FEED
XML