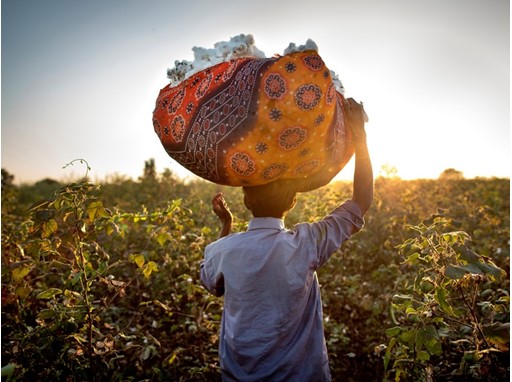 At IKEA, we use many different materials in our textile products. Cotton is one of them. We use cotton in various products - from sofas and cushions to bedsheets and curtains. Each year, IKEA uses approximately 0.7 per cent of all cotton grown around the world. While this may seem like a relatively small number, it enables us to contribute to positive change in the global cotton industry, both in terms of social and environmental impact.
We have been running many projects over the last ten years to improve the working conditions for people working with cotton and the environmental impact of the industry. From September 1, 2015, all cotton in our products comes from more sustainable sources (CMSS)*.  Our ambition will always be to make more sustainable cotton even better. 
A better cotton industry 
Conventional cotton farming techniques still use large quantities of chemical fertilisers, pesticides, and waste large amounts of water in areas where clean water is scarce. Many cotton farmers struggle to make a profit, and the situation often results in health risks to the farmer, soil erosion and water scarcity. At IKEA we do not, as of September 2015 source from the conventional cotton industry. Today, more than 110,000 farmers have adopted more sustainable farming practices within IKEA projects. In these projects, we work with partners on the ground to improve the standards of the cotton industry, towards eliminating the use of Highly Hazardous Pesticides (HHP), water reduction, and to implement fair and equal working conditions for farmers and people throughout our supply chain.
For more than a decade, IKEA has been working with WWF and other partners to transform cotton farming and set social and environmental standards for cotton production. The focus has been to make changes globally and impact on a large scale.  IKEA is also a member of the Better Cotton Initiative (BCI), a multi-stakeholder organisation that sets social and environmental criteria for more sustainable cotton. The Better Cotton Initiative has led to more efficient farming methods, as cotton growers are trained in sustainable farming techniques that use less water, chemical fertilisers and pesticides, while simultaneously cutting costs and boosting the farmers' profits. This is a long term work and at times, challenging. However, we think it is important to be part of a global change within the cotton industry and to work on improvements throughout the total supply chain. 

Responsible sourcing 
All IKEA products are produced in accordance with the IKEA IWAY Standard, our Supplier Code of Conduct. It sets out the minimum environmental and social standards expected from our suppliers, including compliance with local laws. We do not accept any form of forced labour, child labour or treatments in breach with our supply chain requirements. At IKEA, we work with suppliers who share our values and follow our IWAY standards. 

Cotton teams working across the globe are responsible for ensuring that all cotton used in IKEA products meet the demands of compliance in our supply chain. By having teams on the ground in areas where it has previously been challenging to work responsibly, we can challenge the traditional ways of working and improve the industry. 
Our compliance culture and values are what guides us in the work we do. If we are acting in places where we, despite our efforts and ambitions, cannot ensure our requirements are being met due to non-transparent supply chains, or if we recognise that our initiatives can't create the impact we aim for, we will always investigate alternatives. We follow-up on the ground and make changes, at times, even divert our supply chains. 

We want to create a positive impact in the world of cotton, and we know that with our size and volumes, we have the possibility to make a difference. IKEA will continue to work towards improving the cotton industry from within and create a movement towards better cotton and better working conditions for those working in the industry. We acknowledge that in some areas and at some times, this is a challenging journey. This makes it even more important to continue to work towards making things better. By using CMSS, prioritising compliance, working with partnerships and initiatives on the ground, we believe that we can contribute to a better global cotton industry. 
*CMSS includes the following schemes: Better Cotton (as defined by BCI, including their equivalence in various geographies), cotton from farmers working towards the BCI standard (TBC) and e3.
Contacts
IKEA Range and Supply

Product Development, Design, Production and Supply

Sweden

pressoffice.rangesupply@inter.ikea.com

+46 732 321300
More From About Us
SUBSCRIBE TO RSS FEED
XML