Product Improvement - GUNGGUNG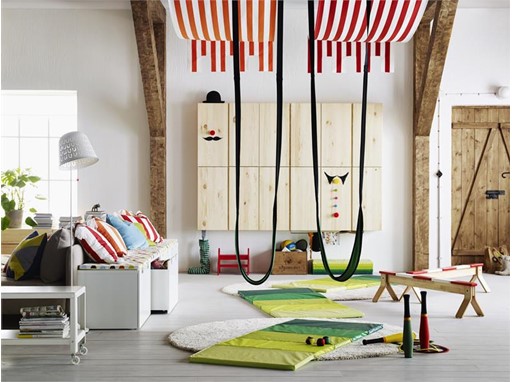 At IKEA, the safety of our customers comes first. We believe in every child's right to play in a safe home environment. In 2014 we developed a circus-inspired swing, GUNGGUNG, to encourage more active play and fun at home. Only a few weeks after the sales launch, the swing had to be recalled. After a massive testing process, GUNGGUNG is now back in the stores, as an even better and improved product.

Product development with real circus artists
In 2013, we enlisted the help of the Swedish contemporary circus company Cirkus Cirkör with the aim to create a circus-inspired collection encouraging children to more active play. We know that play is learning for life. It fuels our development and makes us more creative, stronger and more active. It sparks curiosity. We wanted to build on this insight while combining our design expertise with that of the circus artists. Cirkus Cirkör taught us a lot about the physical movements and even advised us to extend the width of the swing, allowing more acrobatic exercises. "We used polyester materials from sailing, ice-hockey and professional acrobatics to create the feeling of professional play" says Tina Christensen, Product Developer at IKEA.

Testing for use and abuse
We always want our customers both to feel safe and to be safe when they buy our products. When testing the swing, we followed the mind-set we always use when developing children's products – we only sell products that we would give to our own children. 

In accordance with IKEA's standardized process, GUNGGUNG was tested at our accredited test lab following international standards and legislation for swings. "We always consider use and abuse of products when testing, this way we have a better chance of covering unexpected use of products" explains Aniol Salvador Soy, Product Improvement Engineer. Prior to the sales launch of GUNGGUNG, it was tested with a maximum load of 70 kg, which exceeded the standard average of 46.8 kg for swings for children aged 3-7.
GUNGGUNG: Design of the year 2014
GUNGGUNG was launched in IKEA stores all over the world in April 2014. The swing was sold for less than EUR 20 and we were excited to have launched a playful swing to stimulate more active play at home, and at an affordable price.
Just a few weeks after the sales start, GUNGGUNG was awarded the Design of the year award for children's furniture (Årets barnmöbel 2014). The jury called the swing "smart design, taking play and fantasy seriously". They were impressed with its ability to stimulate movement and concentration. This confirmed the success of our mission with the swing. 
Testing children's products for elephants
In the late summer of 2014, some cases of breakage were reported. The plastic buckle on top of the swing had broken leading to some incidents. This buckle was intended to adjust the length of the suspension straps, while supporting the weight of the user. It's against our business idea to take any risks related to health and safety, so we decided to do a full recall of GUNGGUNG in September 2014.
"Sometimes even though we have tested products according to applicable standards and legislation, we make mistakes" says Cindy Andersen, Business Area Manager at Children's IKEA. 
We had such faith in this product that giving up was simply not an option. Once the swing was off the shelves, we started an investigation to see if there was something we had overlooked in the production phase. We soon realized that the initial tests dictated by the authorities did not consider the impact of jumping. We found that the brief change in weight when a child jumped on the swing would sometimes exceed the intended maximum of 70 kg.
 
It quickly became clear that if we wanted the swing back in the range, we had to improve the product components and develop a new test. The most critical component, the plastic buckle, was replaced with a more durable metal one that could easily withstand the weight, moreover two additional plastic buckles to adjust the height were also redesigned. To supplement the standard tests, we created a new impact test to simulate jumping. "When we told the test lab engineers to change the unit of measurement, they laughed: Are you testing the swing for elephants or children?" Aniol Salvador Soy recalls.
 
This product improvement pushed the compliance with global standards for testing swings, and it also resulted in enhanced overall design and product safety in GUNGGUNG. This mishap allowed us to correct a fault in GUNGGUNG and even make it better.
Contacts
IKEA Range and Supply

Product Development, Design, Production and Supply

Sweden

pressoffice.rangesupply@inter.ikea.com

+46 732 321300
More From About Us
SUBSCRIBE TO RSS FEED
XML