Rethinking transportation as part of the climate agenda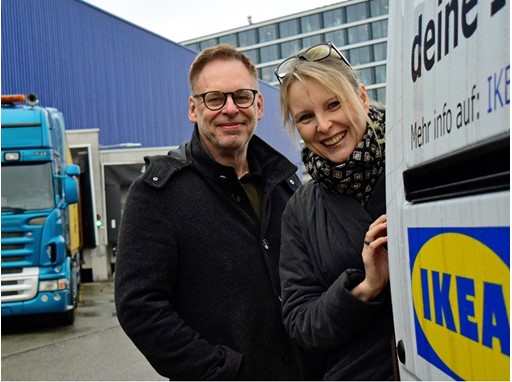 The global transport- and logistics sector has for a long time been going under the radar when it comes to sustainability. Not any longer. IKEA is transforming the industry with an ambitious decarbonising agenda, collaborative approach and innovative initiatives.
A massive transformation of the transport- and logistics industry enables new ways of working, better efficiency and more sustainable ways of doing good business while being a good business. Meet two of the IKEA co-workers who are driving the change: Klas Ekman, Transport & Logistics Services Manager, and Elisabeth Munck af Rosenschöld, Sustainability Manager.

What global megatrends do you see when it comes to transport and logistics?
"Automation and digitalisation. Most things are still done manually, but with automatisation, machine learning and digitalisation we will see higher efficiencies and fewer mistakes. The whole industry will transform," says Klas.
"Sustainability is another factor which will have a huge impact; better fuels and new technologies for the ocean- and land transportation. Electrification of trucks will enable massive innovation when vehicles will be silent and have no emissions. It will, as an example, open up to on- and off-loading inside distribution centres instead of using docks and ramps," says Elisabeth.
"We see that the industry is transforming, and IKEA wants to be at the forefront of this change," says Klas.
How is IKEA working in this transformation?
"We invest time, people and resources. We try to be proactive, find better ways of working and also identify new business opportunities. Even if the carbon footprint from transportation is small, only about five per cent in the IKEA totality, we need to do our part," says Elisabeth and continues:
"IKEA is amongst the biggest shippers in the world, transporting millions of pieces every year. And when you are big, you also have a huge responsibility to drive and implement sustainable change. We only have one planet, and we need to take care of it a lot better than we do today."
Elisabeth gives some concrete examples of what IKEA is doing to implement a sustainable change:
Reduce the number of shipments and fuel used per shipment. This means, for example, to increase the filling rate of the trucks and containers, plan our shipments differently and to be more efficient in everything we do.
 
Replace fossil fuel with more sustainable alternatives. This could be to shift from trucks to trains and to use more alternative fuels and electric vehicles.
 
Rethink how IKEA is working and collaborating; teaming up with partners to drive innovation, working with digitalisation and machine learning. We have a very ambitious decarbonising agenda, and this forces us to think outside the box.

"There is no time just to sit and wait for change to happen – we simply need to move things ourselves and collaborate with different stakeholders to push the necessary transformation in the industry. Today there are not enough sustainable transport alternatives available to cater to the global need. This needs to be solved. And it needs to be solved with a collaborative approach by many other stakeholders who can influence and drive the solutions and thus create the availability and us," says Elisabeth.
"And this is the real challenge: There is not one company that can solve this alone. It needs to be a collaboration between legislators, investments in infrastructure and different commercial companies," says Klas.

Used cooking oil for fuel, electric vehicles for home transport - compared to many other companies, the sustainability and decarbonising agenda seems very ambitious. Does IKEA really need to be that ambitious?
"It's actually very of simple; if IKEA wants to stay relevant to our customers, our culture and values, to the planet, and basically to ourselves as human beings, we just need to do something. Too many have for too long been waiting, and this needs to change. And we need to do it together, as individuals, companies and societies," says Klas.
"By 2030, IKEA has the ambition to be a circular business built on clean, renewable energy and regenerative resources. The aim is also to end our dependency on virgin fossil materials and fuels. This forces us to think in new ways," says Elisabeth and continues:

"For Transport and Logistics Services, this means decreasing our greenhouse gas emissions by 70 per cent per shipment. We're also switching a lot of our transports from trucks to intermodal solutions – in Europe, we now have 40 per cent of our transport on intermodal setups, i.e. involving rail, short sea and/or barge."
In China, IKEA is working on a project to re-use old cooking oil as biofuel for transportation. In Europe, India and North America, there are several exciting projects going on when it comes to rethinking transports in more sustainable ways.
Will this be enough to drive change in the global transport sector? What else can be done?
"I would say that we are definitely making progress when it comes to alternative fuel and intermodal solutions. But IKEA is growing and expanding to new countries every year. Of course, that puts extra pressure on us in the transport and logistics sector on how to reach our goals, especially decarbonising in absolute figures. We simply need to work a bit harder and be stubborn enough," says Klas.
"But we also need help, he continues. Nations and societies, together with companies and organisations can do a lot more, starting already today by working and collaborating on new and innovative solutions."
Elisabeth Munck af Rosenschöld gets the final words when she continues where Klas finishes:

"IKEA has a strong voice in the world, and as a company, we have decided to use it. We want to create a better everyday life for the many people, and we all know the urgency of tackling climate change. There is a lot we can do in transport and logistics, and most things remain to be done!"
FACTS - IKEA Transport & Logistics Services (TLS)
The IKEA Transport & Logistics Services organisation is responsible for developing, planning, purchasing, operating and following up on all IKEA transport and logistics business. TLS is part of IKEA Range & Supply.

FACTS - Supply (as part of Range & Supply)
The job is to enable IKEA to do good business while being a good business. About 4800 co-workers make sure IKEA has materials to use, suppliers to work with and a distribution network to make products available for our customers. We co-operate with more than 1600 suppliers of home furnishing, transport, logistics & distribution services, components and food to fulfil our vision to create a better everyday life for the many people.

FACTS: The IKEA Sustainability Strategy – People & Planet Positive
By 2030, the IKEA ambition is to be a circular business built on clean, renewable energy and regenerative resources. The aim is to become climate positive and regenerate resources while growing the IKEA business, end our dependency on virgin fossil materials and fuels, and contribute to a world of clean air, water and improved biodiversity.
RELATED ARTICLE:
IKEA invests in a pilot programme to bring biofuel to the shipping industry
https://newsroom.inter.ikea.com/about-us/all/our-view-on-decarbonisation-of-ocean-freight/s/5a42325a-a182-4140-be8e-30dfd2b0ae7f
Contacts
IKEA Range and Supply

Product Development, Design, Production and Supply

Sweden

pressoffice.rangesupply@inter.ikea.com

+46 732 321300
More From About Us
SUBSCRIBE TO RSS FEED
XML