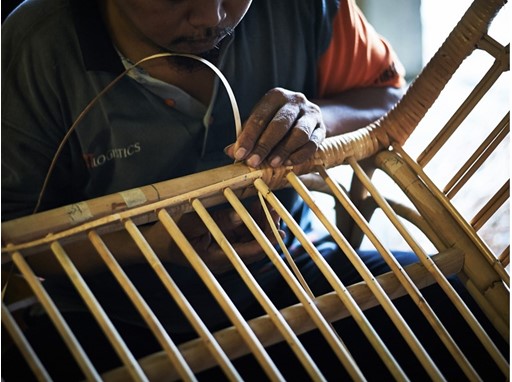 LATEST STOCKHOLM COLLECTION FOCUSES ON SCANDINAVIAN NATURE AND CRAFTSMANSHIP
Adding a warm and casual feeling through design that embodies quality and comfort — that's the theme of the upcoming STOCKHOLM collection, which brings natural materials and a human touch to create "Smart Craftsmanship."
"Smart Craftsmanship is our take on quality furnishing: design in every detail, and the finest materials inside and out for ultimate comfort," says Viveca Olsson, creative leader for the upcoming collection. "All within a reasonable price, too."
Swedish heritage and handicraft are natural choices
A key aspect of STOCKHOLM is the choice of natural materials. The collection includes pieces in ash, wool and mouth-blown glass, which is an important part of Sweden's craft heritage.
With a focus on creating strong solitary pieces that stand out on their own, designer Nike Karlsson did most of his design work directly on the factory floor in Indonesia in order to bring rattan and handicraft to a new, higher quality expression. The team also worked hard to bring out the tactility of the materials, surfaces and finishes in the collection, combining the raw aspects of nature with the fine details of the products. As Viveca explains, it's the simplicity and authenticity of nature that creates warmth and a more easygoing feeling at home.
The Swedish horizon lends its blue hues
In addition to natural materials, nature itself is an important inspiration for the collection, creating harmony and a homey atmosphere. Blues are inspired by the sky meeting the sea, while warm oranges are inspired by the glow of the sunset in the norht part of Sweden, that only sees the sun for a few months of the year. Organic shapes are paired with straight lines, adding a modern and distinctly Scandinavian touch.
One of the designers of the collection, Hanna Dalrot, says her intention from the beginning was to bring a little bit of Swedish nature into people's homes. She used watercolours to develop the patterns for metre fabrics and cushions.
"How the sun reflects on the surface of water, how the waves look in a stormy sea and the landscape that surrounds a lake or the sea," Hanna says. "As a designer, I hope that my patterns will give the same harmony to a room that you find in nature."
Smart Craftsmanship offers better comfort
But perhaps it's the parts of the design that aren't visible that make the new collection so exciting. Comfort is key. And to ensure it, designer Ola Wihlborg decided to take the new STOCKHOLM sofa home and try it out with his own family. His intention with the sofa was to "create a good place for the whole family".
"I've now tried the sofa in my home for a couple of months," he says. "I have never been so much in the sofa. I really like it — it's a good place."
The collection will be filled with modern classics that will stand the test of time with timeless form, timeless materials and timeless colors. The wear and tear of everyday life make these pieces even more beautiful – before passing them onto the next generation.
STOCKHOLM collection
Launch April 2017
Designers
Anne Nilsson
Hanna Dalrot
Gunnel Sahlin
Maria Vinka
Nike Karlsson
Ola Whilborg
Contacts
IKEA Range and Supply

Product Development, Design, Production and Supply

Sweden

pressoffice.rangesupply@inter.ikea.com

+46 732 321300
More From About Us
SUBSCRIBE TO RSS FEED
XML