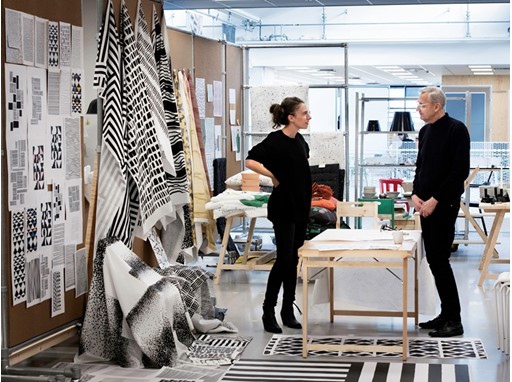 AVSIKTLIG TAKES SWEDEN'S DESIGN HERITAGE INTO THE FUTURE OF IKEA
Nearly 30 years after launching a collection designed by the revolutionary Swedish design team 10-Gruppen in 1979, IKEA has collaborated with "Group of 10" once again on AVSIKTLIG. This unique collaboration brings together the original designers from 10-Gruppen with young designers fro IKEA — one generation meets the next for a Scandinavian collection with strong patterns and bright colours.
"Coming full circle with one of the leading design companies in Sweden feels like the past, present and future have all come together. Inviting young, promising talents to work with the original members from 10-Gruppen has created such a vibrant, fresh and inspiring collaboration," says Jutta Viheria, creative leader for the upcoming collection.
AVSIKTLIG means "doing something with intention"
As a Swedish home furnishing and design company, IKEA wants to strengthen and emphasize Sweden's design heritage by collaborating with Swedish designers who have been barrier-breakers of their time. First it was ÖNSKEDRÖM, together with Olle Eksell's widow and two of his students, which launched in April 2015. Then there was the VIKTIGT collection, designed with Ingegerd Råman, which recently launched. And now it's AVSIKTLIG with 10-Gruppen.

When 10-Gruppen started in 1970, its designs were considered quite different from the Swedish norm. All ten designers were passionate about textiles — and specifically patterns on textiles — and their powerful patterns were considered quite provocative in the '70s.

Closing the loop with a new take on 10-Gruppen
These patterns have been reworked and reinterpreted into a new collection of prints for metre fabrics, rugs, cushions, quilt covers ceramics, paper and also iconic KLIPPAN sofa covers.
"What I think is really thrilling with this collection is that we're going to bring the history of 10-Gruppen to the future of IKEA," says Marcus Engman, design manager at IKEA of Sweden. "That is something to be proud of. I am."
AVSIKTLIG collection
Limited edition
Launch May 17
Designers
Anders Wenngren
Birgitta Hahn
Britt-Marie Christoffersson
Carl-Johan De Geer
Gunila Axén
Hanna Dalrot
Ida Pettersson
Iina Vuorivirta
Inez Svensson
Ingela Håkansson-Lamm
Kristina Abelli-Elander
Lotta Hagerman
Tom Hedqvist
Susanne Grundell
Contacts
IKEA Range and Supply

Product Development, Design, Production and Supply

Sweden

pressoffice.rangesupply@inter.ikea.com

+46 732 321300
More From Democratic Design Days 2016
SUBSCRIBE TO RSS FEED
XML