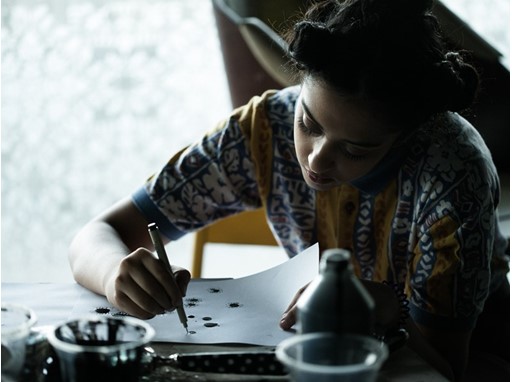 IKEA EXPLORES A DIFFERENT, TEXTURES AND MODERN INTERPRETATION OF INDIA IN SVÄRTAN
SVÄRTAN gets its name from its colour – or really the lack of. SVÄRTAN means blackness in Swedish, and the collection of bed linens, textiles and decorative items only uses shades of black, white and grey. Designed by Swedish fashion designer Martin Bergström, together with 25 design students from the National Institute of Fashion Technology in New Delhi, the collection is a modern interpretation of India and its heritage.
"We went to India to create SVÄRTAN," says Karin Gustavsson, creative leader for the upcoming collection. "Going to India often means that we are very colourful, detailed and ornate, but this time we preferred to be more down-to-Earth. So we made a black collection. We had quite heavy weather sometimes, with rain, flooding, grey days and dark skies, so it suited the collection very nicely."
Inspired by and produced in India using traditional techniques and natural materials
The collection began with over 2,000 sketches made by Martin and NIFT designers at a workshop in New Delhi. They found inspiration in interesting patterns found on distressed walls and in the dangling cables hanging over
the streets. They then made abstract imprints and drawings using all kinds of techniques; from ink blots and threads to burning holes in white paper.
Textile and paper production are an important part of India's craft heritage.The company that will produce the paper products has made paper for over 300 years.
Finding poetry in the things that some might find plain
The goal with the collection was to strike a balance between the organic and the abstract. Martin found lots of inspiration in everyday India – the things that the eyes don't see at first.
"Everything seems to have a patina or texture in India. Nothing is smooth or polished, and you never know if things are 300 years old or contemporary. I find that inspiring," Martin says.
The limited collection consists of "mini pieces of art" that are as functional as they are beautiful. "These are things I want you to keep and treasure. They mean something and come with a story. And I hope people fall in love with them," Martin says.



SVÄRTAN collection
Limited edition
Launch September 16


Designers
Martin Bergström together with NIFT,
National Institute of Fashion Technology, Delhi India
Contacts
IKEA Range and Supply

Product Development, Design, Production and Supply

Sweden

pressoffice.rangesupply@inter.ikea.com

+46 732 321300
More From Democratic Design Days 2016
SUBSCRIBE TO RSS FEED
XML