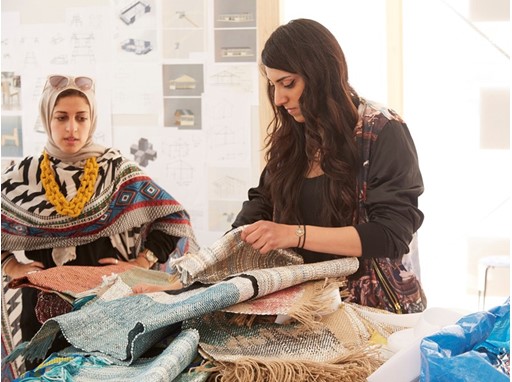 32 chips' bags, 5 crafty humans and 1 skilled tailor sums up this year's give-away during the Democratic Design Days in Älmhult, Sweden.
You know what they say, "one man's loss is another man's gain". This was definitely the case for Reform - the award-winning product design studio behind this year's Democratic Design Days give-away: a completely new take on the IKEA FRAKTA bag. Made out of silver material, an innovative way to reuse and weave discarded plastic bags, one FRAKTA bag is the equivalent of 32 chips' bags.
The fierce female duo, Mariam Hazem and Hend Riad founded Reform Studio back in 2012. It all started with a plastic bag.
"We believe that design can solve stubborn problems and thus we started from a major issue in Egypt: waste. Re-form is an umbrella of many 'Re's'– we see design as a recreation of an existing idea, a redevelopment of objects, reusing of materials, reviving of cultures and reforming our world."
Kinda nice to know that the holder of that tasty snack we love to indulge in can be turned into this summer's perfect beach bag, isn't it?
Reform Studio is part of the ÖVERALLT collaboration, born out of the collaboration between IKEA and a group of designers, architects, artists and creatives from South Africa, Kenya, Senegal, Egypt, Angola, Ivory Coast and Rwanda.
The collection will be launched in 2019.
Contacts
IKEA Range and Supply

Product Development, Design, Production and Supply

Sweden

pressoffice.rangesupply@inter.ikea.com

+46 732 321300
More From Democratic Design Days 2017
SUBSCRIBE TO RSS FEED
XML