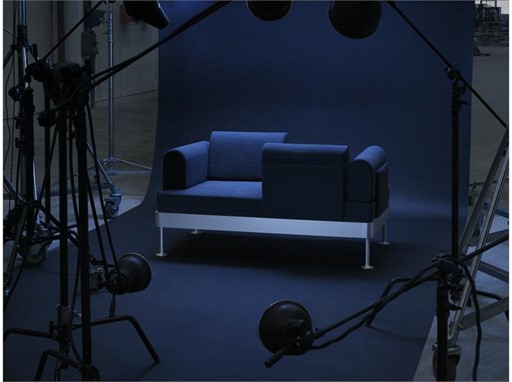 What do new ways of living mean for upholstered furniture like sofas? IKEA is exploring this question with designer Tom Dixon and 75 design students, to co-create a new "platform for living": DELAKTIG.
With many people living in smaller and smaller homes, sometimes in just one room, there's a growing need for products that can suit many different situations and activities.
IKEA reached out to British designer Tom Dixon to challenge traditional production methods and create a new concept of comfort with a frame made from strong, lightweight aluminium.
"The world is changing," says James Futcher, Creative Leader for the upcoming collection. "And maybe the conventional sofa isn't needed for the way people live today. How could we explore different ways of seating and sleeping?"
Creating something versatile, adaptable and long-lasting
DELAKTIG, which means "being involved." in Swedish, is an open platform that inspires people to make it their own. It's a base for many different functionalities, as you can add on pillows, side tables, lamps and a headboard, as you go.
"With this knockdown sofa, you actually put the parts together to suit how you want to build the sofa. Whether you want it as a daybed, a chaise longue or a conventional sofa," James says.
Beyond being flexible, designer Tom Dixon says creating something durable that can be taken apart and reconstructed is an important aspect of the design. "The success for this product is also if people will continue to adapt it and grow the product as they change their lives," Tom says. "That's the objective — it doesn't remain a static product."
Inviting 75 innovative minds to the project
While IKEA often collaborates with designers one on one, this time 75 design students from Royal College of Art, Parsons School of Design and Musashino University, was invited to "co-creation in every sense" in order to challenge conventions and take the idea even further.
"This collaboration probably is a little bit more different to ones we've run before, in that the students are equal partners in this design development with Tom Dixon and IKEA," says Ian Higgins, who is a senior tutor for the Royal College of Art interior design program.
DELAKTIG collection will launch in February 2018.
Contacts
IKEA Range and Supply

Product Development, Design, Production and Supply

Sweden

pressoffice.rangesupply@inter.ikea.com

+46 732 321300
More From IKEA Events
SUBSCRIBE TO RSS FEED
XML