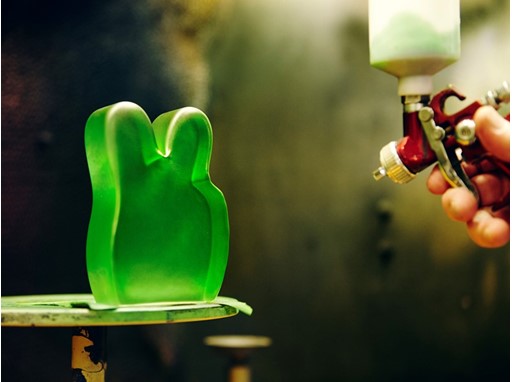 The fourth series of IKEA Art Event continues to make art affordable for everyone while exploring the imaginative world connected to figurines.
Many of us were enthusiastic collectors as children, fascinated by all kinds of treasures: stamps, shells from the beach, stickers or toys. IKEA wondered how one-of-a-kind figurines could invite that playfulness and imagination again, at any age.
For this year's limited-edition series of IKEA Art Event, the fourth of its kind, IKEA has invited artists Arkiv Vilmansa, Coarse, James Jarvis, Joe Ledbetter, Junko Mizuno, Ludvig Löfgren, Michael Lau and Nathan Jurevicius to the Målerås glass factory in southern Sweden to create contemporary glass figurines.
"We want to celebrate the amazing world of art collectibles and the imaginative universe connected to figurines, how they spark our fantasy, represent everyday and turn it upside down with fun and playfulness," says Henrik Most, Creative Leader for the upcoming collection.
Working in the heart of Sweden's glass-making district
Located in the Kingdom of Crystal in southern Sweden, Målerås has been creating hand-blown glass since 1890. It is a magical material rooted in Sweden for centuries and associated with Swedish glass sculptures and objects.
But, it's a new material for many of the artists, and IKEA was curious about how the different artists would apply their creativity, skill and knowledge to working with glass.
"I love creating objects. The idea of experimenting in a material that I have little understanding of is interesting - and I'm always up for a challenge," says IKEA Art Event artist Nathan Jurevicius, an illustrator and toy designer from Australia. "Now that I know more about glass and the production process, I would love to make an entire line in glass."
Figures inspired by pop surrealism and cultural roots
From a bunny to a owl to fingers giving the peace sign, these detailed miniature sculptures have emerged from the imaginations of the contemporary urban artists.
"I wanted to make something simple and iconic that embraced and celebrated the material and the manufacturing process," says IKEA Art Event artist James Jarvis, a visual philosopher from Great Britain who designed the peace sign figure. "The subject matter reflects my interest in language, and I think the image of the hand symbolically has a universal, elemental appeal."
IKEA Art Event 2018 will be available for a limited time starting in April 2018.
Contacts
IKEA Range and Supply

Product Development, Design, Production and Supply

Sweden

pressoffice.rangesupply@inter.ikea.com

+46 732 321300
More From IKEA Events
SUBSCRIBE TO RSS FEED
XML