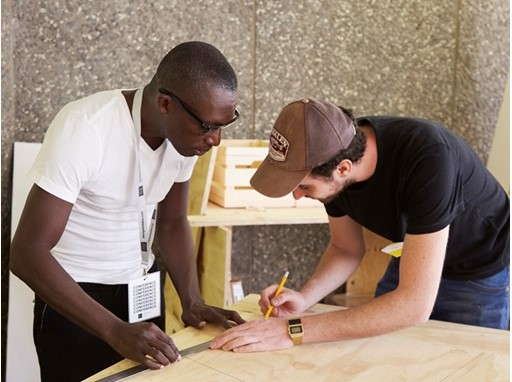 IKEA is perpetually curious about the world and always looking for new perspectives. They've found that in South Africa while collaborating on their first African collection, ÖVERALLT.
For one of its latest projects, IKEA wondered how the place where we live affects us and what kinds of new insights could be discovered by exploring that topic in a place they have rarely worked: Africa.
In March 2017, four in-house IKEA designers met with 12 young African designers, architects and creatives at Design Indaba, one of the world's leading design events in Cape Town, South Africa, to start collaborating on their first African collection, ÖVERALLT.
"The creative explosion that is taking place in several cities around Africa right now is something IKEA is curious about," says Marcus Engman, design manager at IKEA. "We want to learn from this and spread it to the rest of the world."
Rituals are an important part of home
IKEA began its research by asking people around the world what elements make up a home. Those answers were grouped into four main areas — place, space, things and relations — and a common thread was revealed: rituals.
"Rituals are involved in how we handle the relations in our lives, they depend heavily on where we live, they often demand certain items, and they are performed in a space adapted to the ritual, filling that space with emotion and meaning," Marcus says. "So, rituals seemed like an interesting area to explore — one that we can improve and make better."
Everyone is a designer
And when it comes to rituals, doing them together makes them stronger. Which sparked a new idea: could ÖVERALLT be a collaboration with customers, too?
"There is an uncelebrated past, where resource scarcity has been the mother of invention and led to an inventive culture where you have used everything at hand, including waste," Marcus says. "When you combine that with new technology, new materials and new capabilities, interesting things happen.
We thought, 'Let's look into the combinations. Could it be open-ended to include parts that are handmade by the customers?'"
ÖVERALLT collection will be available for a limited time starting in 2019.
Contacts
IKEA Range and Supply

Product Development, Design, Production and Supply

Sweden

pressoffice.rangesupply@inter.ikea.com

+46 732 321300
More From IKEA Events
SUBSCRIBE TO RSS FEED
XML